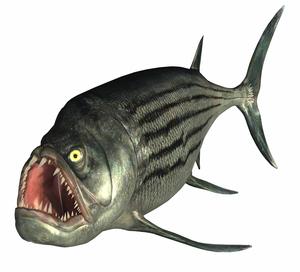 LOS ANGELES, CA -- (MARKET WIRE)
-- 09/07/07 --
Extraordinary marine reptiles from the dinosaur age come to life on the giant screen with 3D technology in National Geographic's new film
"Sea Monsters 3D: A Prehistoric Adventure,"
opening
October 5, 2007
at the California Science Center IMAX Theater. From the giraffe-necked Styxosaurus and 20-foot
"bulldog"
fish Xiphactinus to the T-Rex of the ocean -- the 40-foot super-predator Tylosaurus -- these wondrous beasts defy imagination.
The film, narrated by Tony Award-winning actor
Liev Schreiber
with an original score by longtime musical collaborators
Richard Evans, David Rhodes and Peter Gabriel
, takes audiences on a remarkable journey into the relatively unexplored world of the
"other dinosaurs,"
those reptiles that lived beneath the water. Funded in part through a grant from the National Science Foundation, the film delivers to the giant screen the fascinating science behind what we know, and a vision of history's grandest ocean creatures.
"
This is the first giant-screen film about what lived in the water during the dinosaur age,"
said producer Lisa Truitt, president of National Geographic Giant Screen Films and Special Projects.
"It is perfect subject matter for such an immersive format, one that allows these giants to literally swim off the screen and directly into the audience." (....)