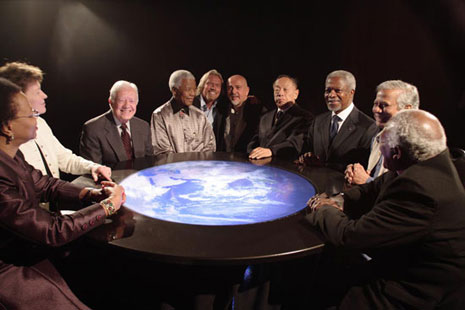 turkishpress.com, Published: 10/7/2008

LEFKOSA - A delegation of
"the Elders"
--a group of renown and trusted leaders aiming at addressing the global issues-- will visit Wednesday the Turkish Republic of Northern Cyprus (TRNC) to encourage the unification of the island.
The Elders
delegation consisting of Archbishop
Desmond Tutu
, former U.S. President
Jimmy Carter
and former Algerian Foreign
Minister Lakhdar Brahimi
will meet Wednesday political leaders of Turkish and Greek Cypriot communities in the island at the Ledra Palace hotel in the buffer zone.
The delegation will hold a press conference Thursday at Ledra Palace Hotel after meeting TRNC President
Mehmet Ali Talat
. A press release issued by
"the Elders"
emphasized that the delegation would not be involved in the current negotiations which was launched on September 11th.
"We are here to say that the world wants this island to find peace ? we wish it with all our hearts. We encourage all Cypriots to look forward to the potential benefits that a peaceful resolution can bring. And we want to make sure that the current efforts of the Cypriot leaders to reach a lasting settlement are fully supported by the international community,"
said
Elders
Chairman Archbishop Tutu
in the press release.
"The Elders"
was founded in 2007 by
Nelson Mandela
upon the suggestion of musician
Peter Gabriel
and businessman
Richard Branson
.
Inspired by the traditional village elders, trusted by their people to resolve conflicts within their communities,
Gabriel and Branson
came up with the idea of a new gathering of world leaders who would guide and support the
"global village".
With these intentions
Nelson Mandela
,
Graça Machel
and
Desmond Tutu
have convened a group of leaders to contribute their wisdom, independent leadership and integrity to tackling some of the world's toughest problems.