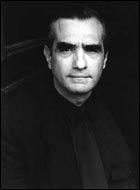 Gangs of New York
se déroule dans les années 1860.
Scorsese
, en parfait contrebandier, n'hésite pas à employer des musiques parfois volontairement " anachroniques " avec le récit du film, en compagnie de musiciens aussi divers que
Peter Gabriel
(déjà compositeur sur
The last temptation of Christ
, Scorsese 1988),
Afro Celt Sound System
,
Howard Shore
(compositeur sur After Hours, Scorsese 1985),
U2
ou
Jocelyn Pook
(à qui l'on doit quelques musiques mémorables dans
Eyes Wide Shut
, Kubrick 1999). Ces musiques contemporaines offrent indéniablement une autre profondeur de champ émotionnelle à Gangs of New York....
(

suit un long article fort interressant

)