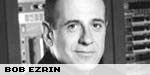 Entertainment Reporter, Andrea Nemetz with The Chronical Herald of Halifax, Nova Scotia reports:


Legendary music producer Bob Ezrin says the much talked about imminent demise of the record business is already here.
"People are not going to the record store and are not paying for downloads," says the man who discovered Alice Cooper, produced Pink Floyd's The Wall, as well as records for David Bowie, Peter Gabriel, KISS, and countless other bands.


Ezrin's speech to a standing-room-only crowd of performers, songwriters and industry personnel at the Delta Halifax on Saturday afternoon was peppered with humour, frank words on the state of the industry.


He said that people in the music business can't simply find new ways to do old things. "The old things are gone. In the next couple of weeks, maybe months, there will be a bloodbath at the major record companies. We're not at the tipping point, we're on the other side."


He said the goal of having a hit record is a bad goal. "Maybe one person in this room will have a hit record. The days of hit records are over," he said. "It's about being something real. . . people need to change their goals in order to survive as entertainers."
At the end of the day, it's about live performance, he said. "You've got to play. What no one can steal is your direct relationship with the audience, you can't duplicate that love affair."
Read the entire article click here.