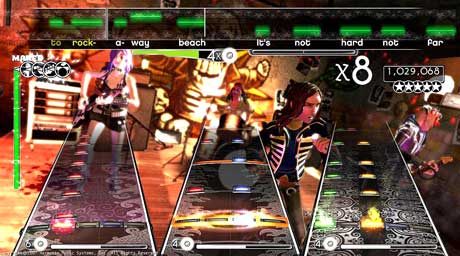 Keith Stuart, # The Guardian

Rock Band probably won't save the music industry
It's great that the mainstream media has switched on to videogames as an inventive and exciting form of media rather than the work of
Beelzebub
and all his techno-demons. The only problem is, every new trend is being eulogised as some sort of minor cultural revolution. If you believe everything you read, Wii Fit is going to solve childhood obesity, brain-training games have crushed idiocy, and online casual gaming could eradicate boredom and loneliness by 2012. Global warming? Games will probably have that fixed within the decade.
The latest example involves the rock music sims
Guitar Hero
and
Rock Band
- both of which allow users to download new music tracks to twang along to. It turns out this is going to save the music industry. Admittedly, there are some compelling stats doing the rounds -
Guitar Hero
players have now downloaded over 15m tracks, while
Rock Band
users are at the 12m mark. Furthermore, when the ageing glam rockers
Mötley Crüe
recently debuted their latest single on both
Rock Band
and
iTunes,
sales were five times higher on the former. Music industry execs everywhere are crawling back from 20th-storey window ledges to their desks.
But let's look at the groups using
Guitar Hero
and
Rock Band
as a distribution platform for new material. So far,
Mötley Crüe
have been joined by
Aerosmith
and
Metallica
, both of which are set to have special editions of
Guitar Hero
based around them. We're hardly at the chalkface of contemporary music here. It reminds me of that period in the late 90s when artists such as
Peter Gabriel
and
David Bowie
started making awful websites and interactive CD-Roms. Call me back when
Crystal Castles,
MGMT
or
No Age
start launching songs in this way and maybe we can talk. And no, the fact that
Coldplay
has just released three tracks for
Guitar Hero III
doesn't count.
Most recently, we discovered that the latest
Guitar Hero
sequel/cash cow, subtitled
World Tour
, is set to include an
"innovative"
studio mode, allowing players to
"lay down"
their own tracks. Amazing. A revolutionary concept. Except, 10 years ago, Codemasters introduced its Music series of sampler/sequencers on PlayStation, and later PlayStation 2. Cheap, yet powerful, these games were employed by a generation of urban artists -
Dizzee Rascal
for example - to create their first tracks and gain the attention of record labels.
This latest interplay between the game and music industries ... well, it's interesting, but certainly not new or world-shatteringly pertinent. Just as videogames are unlikely to destroy civilisation, they're probably not going to save it either. At least until
Little Big Planet
turns us all into brilliant game designers. Or Spore makes us gods.