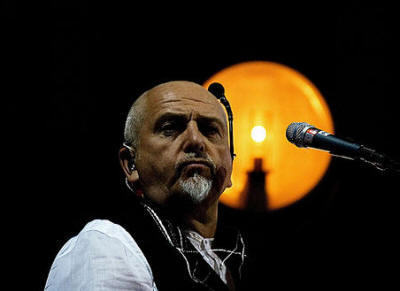 Peter Gabriel live 2007
Review Snapshot:
Despite appalling weather conditions,
Crowded House
and
Peter Gabriel
managed to delight a field of sodden punters with two excellent, crowd pleasing sets.
Full review:
Sometimes, just sometimes, you go to a gig that you'll remember for the rest of your life. For me,
the Crowded House / Peter Gabriel double header at Marlay Park
was one of those. It seemed like an odd pairing to me when I first heard it announced - although I'm a big fan of both acts, it didn't seem to me that they had anything in common in terms of their musical styles. I also felt a bit miffed that the House, who had a pretty big following back in the day, weren't headlining.
The appalling weather in the week preceding the gig didn't bode well for the event. Myself and my friend arrived at the site shortly after the gates opened (oddly, all the security seemed to be provided by An Garda Siochana rather than the usual private security mutts) and had time for a leisurely stroll around the usual array of ludicrously overpriced food stands, t-shirt tents, and the other assorted tat designed to part us from our hard earned...
...Next up was
Peter Gabriel
who also delivered a brilliant set with many of the songs taken from his classic third album (for reasons best known to himself, all three of Gabriel's first three solo albums are titled simply
Peter Gabriel
. Thanks for that Peter). Highlights here were
No Self Control, Intruder, Not One of Us
, and the beautiful
Family Snapshot
.
Solsbury Hill
was another masterful song which got a great response from the crowd.
Gabriel
himself was in playful mood, at various times leading band members around the stage in a conga line reminiscent of
Bruce Springsteen
's performances. We were also treated to the shameless crowd pleaser of
Sledgehammer
. Although I'd come mainly to see
Crowded House
, I hugely enjoyed
Gabriel
's set too and left
Marlay Park
soaked but happy. Here's hoping that the rest of the summer concert season lives up to this standard.