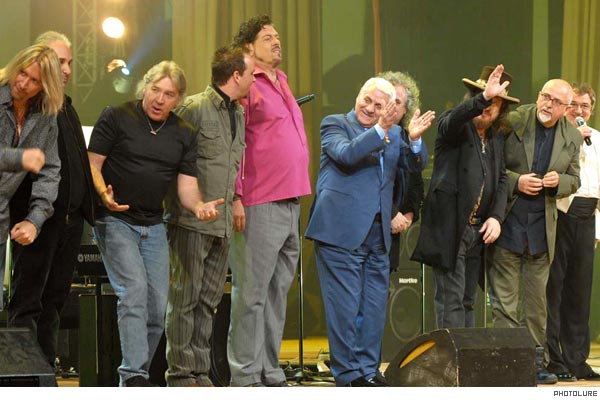 By Marianna Grigoryan, ArmeniaNow reporter, 12 November, 2008

With a long red carpet and stepped up security measures, a series of tribute concerts marking the 80th anniversary of prominent Armenian duduk player
Jivan Gasparyan
opened at the Sports and Concert Complex Tuesday night. Both Armenian artists and internationally renowned musicians took part in the event.
"All have come here without any fee or remuneration, all are my friends,"
the Maestro said from the stage.
"And I am thankful to all."
Despite chilly November weather and a high price of tickets (between 10,000 and 50,000 drams, which is about $30 to $165), the concert hall was full of local fans and guests who have come to honor the man who made Armenian music known worldwide with plaintive melodies of the duduk.
"I am fascinated. I don't know when I will come to Armenia next time. But Armenia is in my heart and I hope to come back here again. I am grateful to him [

Jivan Gasparyan

] who allowed me to be his pupil. He is like father to me and I am proud to have known him,"
Pedro Eustache
, who astounded the audience with his skill of playing different wind instruments during the concert, told ArmeniaNow.
Such well-known musicians as
Peter Gabriel, Andreas Vollenweider,
Grammy winner
Alan Parsons, Zucchero
, as well as celebrated guests from other spheres had come to honor the great duduk player.
"Happy birthday, Maestro. You give us strength to score victories,"
said unbeaten International Boxing Federation middleweight champion
Arthur Abraham
, who came to Yerevan after a signal title defense on Saturday.
Yuri Vardanyan
, a famous Armenian weightlifter who held numerous world records in his sport, gifted one of his records to
Gasparyan.
"I flew for 16 hours to reach Yerevan and congratulate you,"
he said addressing the Maestro.
"Now you are also a sport champion."
The Maestro's grandson, his full namesake
Jivan Gasparyan
, also performed during the evening.
Jivan Gasparyan
, the Master of the Duduk, the winner of four world-wide gold Medal
UNESCO
competitions (1959, 1962, 1973, and 1980) and the
WOMEX
(World Music Expo) lifetime achievement award in 2002 embarked on his
"champion"
career many years ago. (See more on the artist's official website
www.gasparyanjivan.com
)
He says that he had given numerous concerts, played for famous people, made friends all over the world. And in 1947 he received an award from Stalin, which he had to sell to make ends meet.
"I had a difficult childhood. I lost my parents early on and lived in an orphanage,"
Gasparyan
told ArmeniaNow in a short interview before the concert. "Since I was a child I had to go through so many hardships that later I could overcome the challenges of life."
Gasparyan
says that he did everything for the duduk to get worldwide recognition so that
"people love and feel the sorrow of the duduk."
But he says he feels there is something unfinished. The Maestro says that he wants to set up a school first of all for orphaned children.
"I caught a cold a week ago and have not recuperated yet. We will celebrate my 100th birthday anniversary as well,"
he smiles.
"I still have a lot to do."